Innovations in Medicine

University Place: UW School of Medicine and Public Health professors discuss advances in medicine.

Wisconsin Foodie: Episode #702

Visit Briess Malt & Ingredients Co. in Chilton, then travel to Amherst to tour Central Waters Brewing Co.

UW Economist Explains Dairy Market Crisis

Here & Now: Mark Stephenson, with the UW-Madison Program on Dairy Markets and Policy, discusses the new Canadian tariff and President Trump's recent comments.

Aquatic Invasive Species in Wisconsin

University Place: Learn about the impact of aquatic invasive species in Wisconsin's lakes and rivers — and what you can do to help.

GOP Gun Bill Eliminates Background Checks

Here & Now: The GOP right-to-carry bill would not require gun users to apply for a state license, which requires background checks and training.

Friend of the River

Wisconsin Life: Branda Thwaits has a deep passion for the Namekagon River. Now as a U.S. National Parks Ranger, she gets to live her dream.
Explore More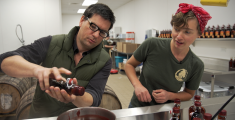 Watch New Season Online
Tour the state to explore the stories behind our food and meet the people behind local delicacies.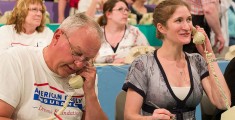 May 31 - June 7
The annual WPT Auction needs volunteers of all ages to fill many positions. Sign up today!
Explore the Archive
Nancy Zieman offers innovative ideas for people who love sewing, quilting, and embroidering.
Science Education
Be curious. Be more. Turn your home computer or smartphone into a digital lecture hall by exploring and sharing this vast collection of instructional videos and lectures.
Live studio audience
Join us at WPT on April 25 for three live studio performances by Wilder Deitz Group, Tony Casteneda Latin Jazz Sextet and Mr. Jackson. Free. RSVP today!
Act Now!
Tell the US Congress to protect federal funding that allows WPT to serve Wisconsin with broadcast TV programs, online media and educational services.